Last year marked Nike's 30th anniversary and the brand did not let this milestone go unnoticed, launching their "Dream Crazy" campaign that we have seen continue into 2019 with "Dream Crazier". The campaign featured inspiring images and a video that tell the story of athletes that pushed boundaries, creating their own path to success. The video was voiced over by Colin Kaepernick who at the time of its release had proceeded to an official trial phase in his grievance against the NFL. This sparked a controversy around the campaign with some customers taking to social media, burning their Nike shoes and cutting their Nike socks. The debut of the ad in September 2018 generated conversation with Nike's social media mentions being up 135% according to social media analysis firm Talkwalkwer.
The inherent risk that came with taking a stance on a social issue paid off for Nike with an income jump of 10% that quarter driven primarily by revenue growth. Consumers are showing with their buying power that they value brands that will stand for something that they believe in and live its convictions. With "Dream Crazy" Nike used visual marketing to tell stories that create a culture of empowering athletes that have been previously marginalized. Nike continues to break barriers and rupture expectations, just like the athletes featured in its ads, exhibiting a purpose and soul that doesn't look to please everyone but gives customers a brand to be passionate about.
VISUAL MARKETING THAT SAYS A LOT WITH A LITTLE
Along with the video advertisement, Nike featured athletes that defy the odds in their visual marketing. Each image in the campaign consists of a black and white photo of the athlete with one line of white text and the Nike logo and slogan "Just Do It". The minimalist ads manage to convey a lot of meaning, spreading a message of empowerment. The hard work exhibited by each of the athletes pictured allowed them to transcend boundaries, linking Nike with the idea of redefining our limits and doing what others tell us is impossible.
This first image was the most controversial with the quote from the "Dream Crazy" ad to "Believe in Something. Even if it means sacrificing everything." Nike is not shying away from showing their support of this athlete who hasn't played in the NFL since 2016 when he was the first player to kneel during the national anthem in protest of police brutality and racial inequality . In February of this year, days after Kaepernick settled his collusion case against the NFL, Nike debuted its Kaepernick Icon Jersey that sold out in a matter of hours.
Nike has continued to find success through their support of Kaepernick with Sandra Carreon, the director of Nike, stating that they "believe Colin Kaepernick is one of the most inspirational athletes of this generation, who has leveraged the power of sport to help move the world forward". The Nike brand has made itself a large part of this movement to change the world through sport. This is demonstrated through the other ads featured in this campaign.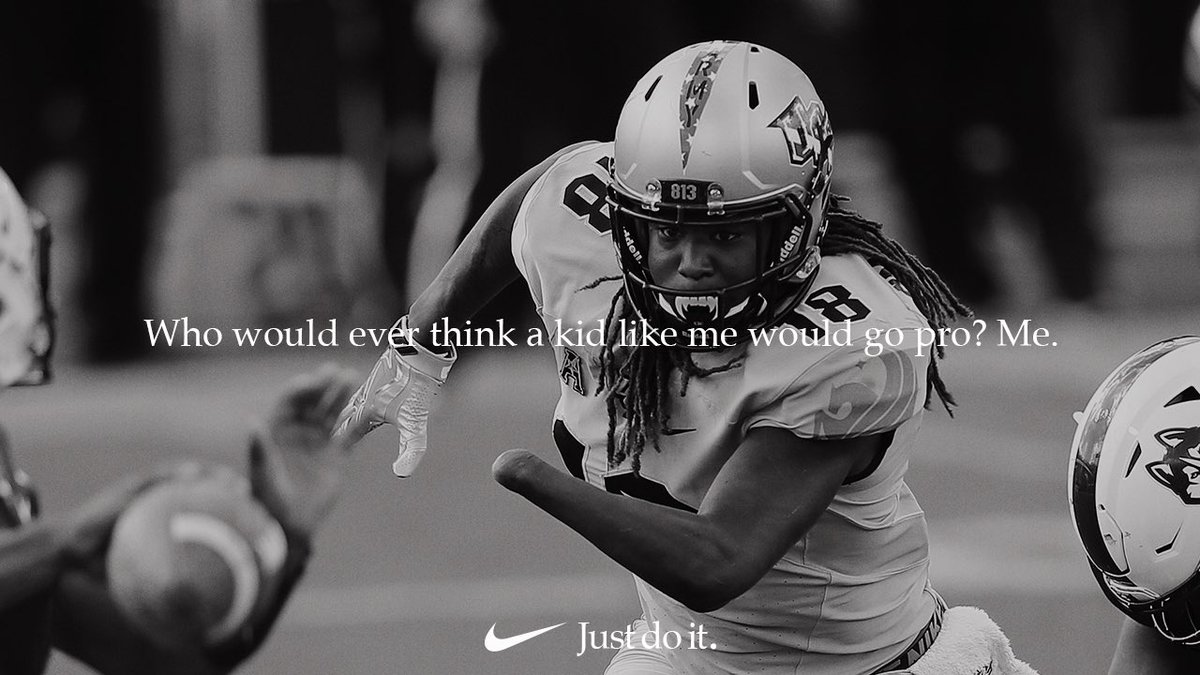 With this image of Shaquem Griffin, the football player shows that when no one believed he could play football professionally, his confidence didn't waiver, resulting in him becoming the first one-handed player drafted into the NFL. Griffin continues to inspire different-limbed athletes and people world-wide as he didn't let his amniotic band syndrome stop him from achieving his dreams. This message feels authentic to Nike which has consistently made their brand about defying the odds and working hard for your dreams.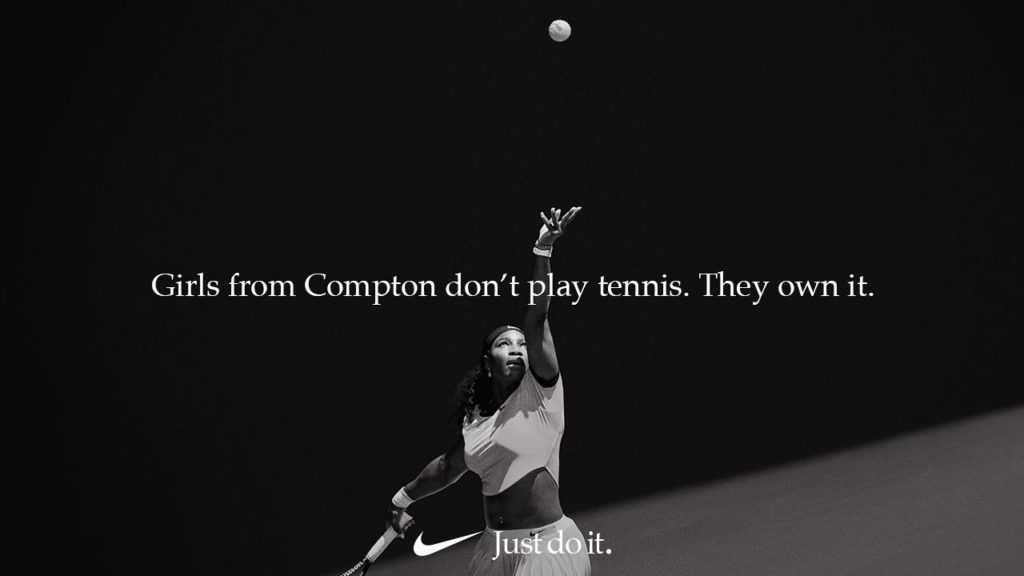 Serena Williams has continued to be a relevant powerhouse in the tennis world, defying expectations with her return to tennis after having her child. The tennis sphere does not make this re-entry easy, making Williams return without a seeding. Although the road back hasn't been without obstacles, Williams returned to the upper echelons of the sport ahead of schedule reaching the final of both Wimbledon and the US Open within six months of her return. Williams represents what owning your sport and your journey within it looks like, a story that Nike has aligned itself with by using her image in their campaign.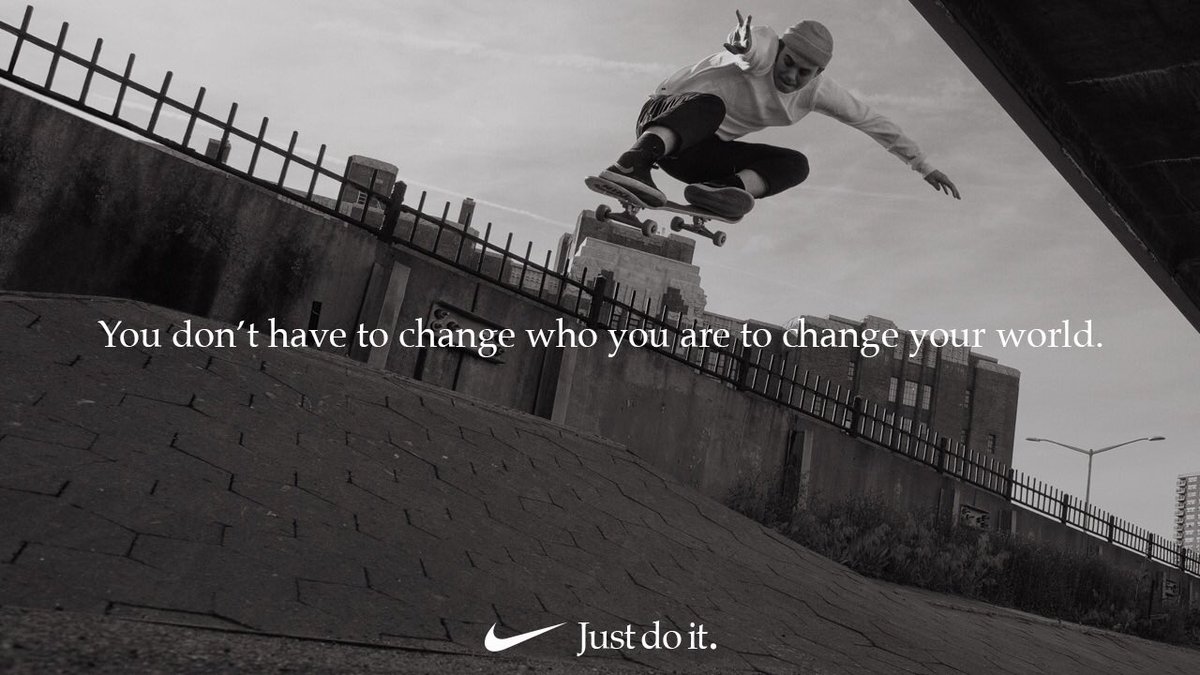 The last of these images is of Lacey Baker, the only female skateboarder to be nominated for an ESPY Award in the "Best Female Action Sports Athlete" category. Baker is a female and queer skateboarder that has continued to break barriers in a male-dominated sport. She is unapologetically herself and works to redefine skateboarding and make it inclusive to female skaters everywhere.
Each of these athletes' stories align with the brand image of Nike that both pushes the box and is world-class in all areas of athletics. The "Dream Crazy" campaign uses imagery with very few words to show what the brand is all about and tell authentic stories that feel true to who Nike is.
MARKETING THAT POWERS CHANGE
Marketing can have a large influence on global culture as brands are in our homes, in the media we consume, and on our bodies each day. Brand stories that take a stance, catalyze change and stay on the forefront of customers' minds as the companies that try to play both sides end up on the sidelines. "Dream Crazy" featured images that took a clear position on various issues, a marketing strategy that Nike has long followed and will continue to throughout 2019. This year, Nike has shown its support for women athletes in a time where the pay gap between male and female athletes is a relevant and controversial issue. With "Dream Crazier" and the upcoming release of the Women's Summer Line, Nike is just in time to back proponents of gender parity for the Women's World Cup.
Taking a stance can keep your brand relevant and give your customers a reason to be passionate about what you do. If there is an issue that is obviously relevant in the field that you are in, this is an opportunity to use marketing efforts to tell a story that is authentic to your brand and the environment it exists in. Visuals are a great way to convey a large amount of meaning in a way that only takes seconds for the audience to take in. Through marketing, Nike has become much more than a shoe or garment that you wear during athletics, it has become an ideal that athletes strive for and a supporter for all those who aren't afraid to be more than what is expected of them.
Ready to say more with your brand story? Contact Magic Flight Studios here.